The Andera MidCap team confirms the target at €600m for its new fund, which succeeds Winch Capital 4
Andera Partners – a leading private equity player focusing on small- and mid-sized growth companies in France and internationally – has announced the first closing at €450m of its fund Andera MidCap 5, the successor to Winch Capital 4 (€445m), with a final target at €600m.
This is the fifth investment vehicle of the Andera MidCap team, who for 20 years has been providing equity financing to support growth companies' managers-shareholder in their strategies of change of scale and transformation.
Andera MidCap's longstanding investor base has shown strong support to the investment team, who was thus able to count on the continued trust of partners such as Société Générale Assurances, BNP Paribas Cardif, Bpifrance, MACSF, CNP Assurances and Ardian, while also attracting new French and international investors, convinced by the change of scale strategy – which constitutes Andera MidCap's main value creation lever – and by the performance of previous vintages. The 15 exits completed by the Winch Capital 3 and 4 funds generated an average multiple of 3.3x.
Andera MidCap specialises in primary transactions in its segment (53% of Andera MidCap's investments), with the ability to take majority or minority stakes. The team will continue to build partnerships with managers holding significant stakes in their company, in order to support build-ups, international expansion and transformation.
The future portfolio companies of Andera MidCap 5 will benefit from the "Andera Partners Transformation" program, which aims at accelerating growth and succeeding the transformation of their business through a five-tiered approach: strategic advice, leveraging on a powerful network of exclusive senior advisors, digital transformation, CSR, build-ups and international development.
Sylvain Charignon, co-managing partner at Andera Partners: "Andera Partners is growing rapidly, with fundraising rounds getting bigger from one vintage to the next. We raised nearly €1 billion in 2021 and currently have €3.5 billion under management. Our target is to have €4-5 billion in assets under management in two to three years' time. We intend to achieve this not only through our funds' growth but also via external growth or by incorporating new teams."
Andera MidCap operates across all sectors, with specific expertise across five industries: B2B services, especially energy services and maintenance (Infra Group, Netco); technology (Scalian, HR Path, Telecom Design); healthcare, cosmetics and specialty chemicals (Nexira, Minafin); niche industries (Klubb Group, Pusterla 1880); financial services, in particular brokerage and real estate asset management (Auxiga, Panhard Group). The team invests mainly in France, as well as in other European countries, particularly Belgium, where it is supported by its Antwerp office opened in 2019, and Italy, where it has been operating for 10 years.
Andera Partners' ambition as a responsible investor is to support the companies in which we invest to be sustainable in a world where social, societal and environmental issues are growing. Hence, Corporate Social Responsibility becomes a strong strategic axis, a source of innovation and value creation and a differentiating factor. In this regard, Andera MidCap 5 is an Article 8 fund within the meaning of the SFDR Regulation, promoting environmental and social characteristics as part of its investment strategy.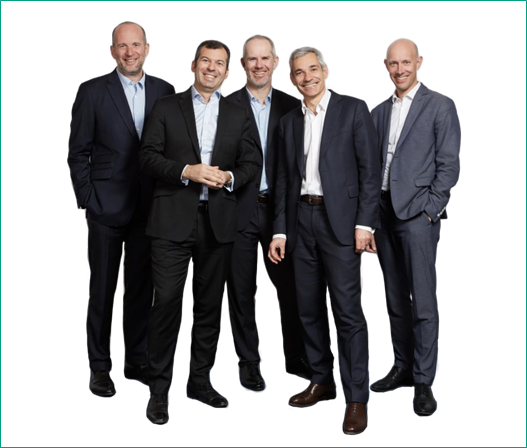 Partners of the Andera MidCap team (from left to right): Laurent Tourtois, François-Xavier Mauron, Antoine Le Bourgeois, Pierre-Yves Poirier and Sylvain Charignon
Since its creation, Andera MidCap has deployed more than €1 billion through four funds (Winch Capital 1 – €166m; Winch Capital 2 – €250m; Winch Capital 3 – €300m; Winch Capital 4 – €445m), targeting investment tickets ranging from €25m to €100m. As a proactive partner for managers of small- and mid-sized companies, the Andera MidCap team supported more than 100 companies (in the range of €50 million to €500 million sales) in implementing more than 180 build-ups, 40% of which internationally. The companies we backed saw their results grow by 70% on average thanks to the support provided by Andera MidCap.