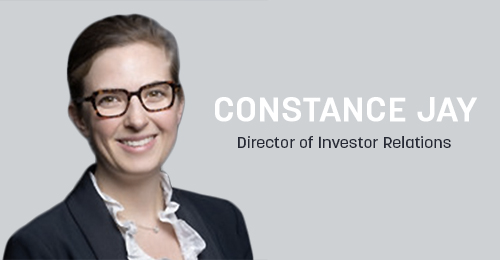 Investment management firm Andera Partners announces the recruitment of Constance Jay as Director of Investor Relations, as part of a development strategy that includes fundraising targets of nearly one billion euros over the next year.
Constance Jay will draw on 15 years of experience in fundraising and a network of international institutional investors in growing Andera Partners' investor relations outside of its home country.
Before joining Andera Partners, Constance Jay worked for 11 years at Argos Wityu where she helped raise nearly one billion euros, primarily outside of France. Prior to that she spent three years at placement advisory firm Acanthus Advisers in London.
With Constance Jay's arrival Andera Partners continues its development started 20 years ago and accelerated with its spin-off in March 2018. Constance Jay will notably oversee the development and enhancement of the group's international partnerships around the world, particularly in Europe, and the diversification of the investor base across Andera's four fund categories. The recruitment of several new members over the coming months is currently being examined with the goal of strengthening the Investor Relations team.
"I am delighted to join Andera Partners, which is a unique platform in France. Andera is among the very best teams on the market. To be in a position to help this French private equity success story with its future international projects is a particularly motivating challenge, to which I look forward to devoting my time", says Constance Jay.
"Our strategy and teams are greatly appreciated and recognised by the French market. We have organised our platform and transversal functions to serve the needs and expectations of our investors. This opens up prospects for new stages in our development, as symbolised by Constance Jay's arrival. The relevance and solidity of our model form a sound basis for our international development which we are now looking to amplify", say Stéphane Bergez and Pierre-Yves Poirier, managers of the firm.